ErgoPlay Safety Tiles
Rubber Tiles - Safety Tiles - Safety Surfaces - Playground Flooring - Safety Flooring - Rubber Mats
Hard materials like concrete, asphalt and compacted soil are dangerous, if a child's head should strike the surface it might cause serious damage, such as brain damage, serious disability or even worse. Gravel, sand, mulch and wood chips ensure better protection but cause problems as the need for constant maintenance, sanitary risks and increased danger for eye injuries and accidental ingestion is a fact. Furthermore, the use of gravel and sand will result in increased wear and tear on playground equipment, furniture and floorings etc. in houses nearby.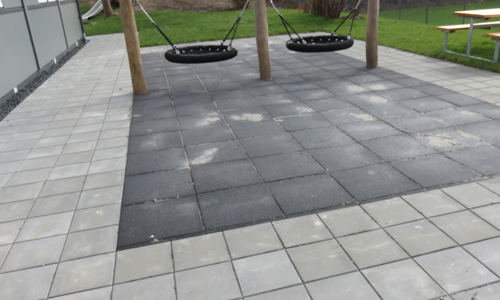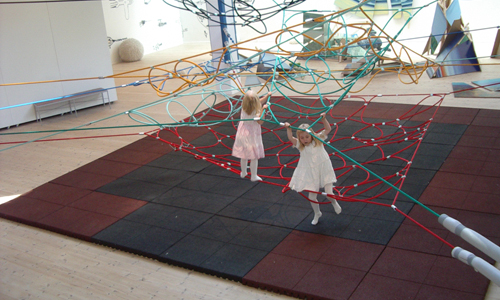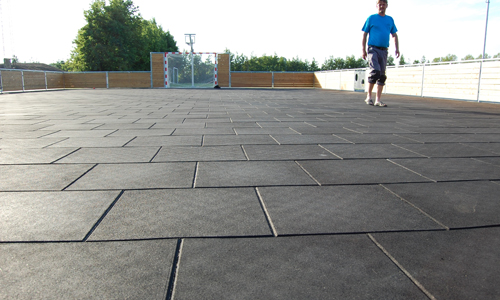 When choosing a playground safety surface, there are many factors that should be evaluated. Unfortunately, playground floorings are often chosen based on short-term financial considerations and tradition - without an eye for the long-term maintenance costs and other disadvantages of the chosen solution. Establishing rubber tiles as a playground safety surface is slightly more expensive than fall sand/bark tiles etc., but seen over a period of several years, it is the cheapest solution.
ErgoPlay Safety Tiles are the perfect alternative to these traditional safety surface materials. ErgoPlay Safety Impact Tiles are designed to perform optimize impact absorption and slip resistance to contribute to a more safe playground environment.

ErgoPlay Safety Tiles - Rubber Tiles - Playground Flooring
Impact absorbing and elastic rubber tiles.
Non-skid and durable playground flooring.
Sustainable, environmentally friendly and non-poisonous playground safety surfacing.
Many decorative colours.
Water permeable rubber tiles with an integrated drainage system to secure a dry and safe playground environment.
Low flammability.
Minimal maintenance.
5 years limited guarantee.
Tested according to EN 1177.
Fall heights up to 3,0 m on a concrete sub-base:

45 mm: 1,5 m fall height
60 mm: 2,0 m fall height
75 mm: 2,5 m fall height
90 mm: 3,0 m fall height
Sizes: 500x500 mm (full tiles incl. corner & ramp tiles)
250x500 mm (½-tiles only)